Articles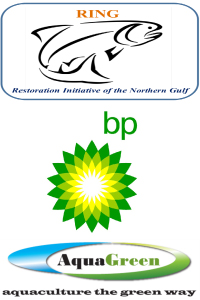 The Restoration Initiative of the Northern Gulf (RING)
A Proposed Marine Resource Damage Investment Program Involving Both the Public and Private Sector
The recent Gulf of Mexico oil spill has the possibility of causing a number of detrimental effects on the coastal environment and as a result, the region's socioeconomic structure. Direct as well as indirect losses of marine life coupled with closed fishing grounds and seasons will result in decreased recreational and commercial fisheries. Commercial fishing in the gulf represents a substantial industry, with annual landings of 1.2 billion pounds and a value of approximately $700 million. Perhaps even more important to the Gulf region is its recreational fishery. The estimated 3.2 million anglers that fish Gulf waters generate over $4 billion in retail sales with an overall economic impact of approximately $8.1 billion annually.
Clearly, efforts will need to be taken to replace losses of fish and other aquatic life of importance to the Gulf region's economy as well as its environmental sustainability. This is especially relevant to the northern Gulf states of Louisiana, Mississippi, and Alabama, each possessing coastlines located near the epicenter of the oil spill. This situation has created an opportunity for British Petroleum to transform a negative public perception associated with oil spill cleaning operations to a restorative one while positively affecting the environment and economic profile of the northern Gulf region. This situation also presents an opportunity for BP to support the formation of a collaborative team that can effectively address and mitigate issues related to the oil spill and its effect, both short and long term, on aquatic life as well as businesses and industries dependent on its status, including harvest and recreational fisheries, restaurants, seafood markets, and tourism. The time is now to take this opportunity to make a lasting impact in response to the initial one by establishing the Restoration Initiative of the Northern Gulf (RING).
Current Status and Limitations of Gulf of Mexico Stock Enhancement and Restoration Programs
Programs to bolster natural populations of aquatic life in US waters have been in place for decades, however, most have focused on freshwater environments. In fact, with the exception of restoration of salmonid populations on the west coast, most marine stock enhancement efforts currently in the US are research-oriented, rather than output driven. With respect to the Gulf Coast states, this statement is apparent with two notable exceptions: Texas and Florida. Marine stock enhancement efforts, although limited with respect to species diversity, are well established in both states. The Texas Parks and Wildlife Department (TPWD), via two pond-based hatchery and nursery centers, annually produces millions of red drum and spotted seatrout for restocking the state's coastal habitats. In Florida, the Florida Fish and Wildlife Commission, in cooperation with Mote Marine Laboratory, has established programs for the production of red drum, spotted seatrout, and common snook for restocking purposes. In addition, Florida is in the process of forming a Hatchery Network Initiative involving multiple institutions and agencies that will broaden the capacity for restoration efforts in the state.
In contrast to Texas and Florida, the northern Gulf states of Louisiana, Mississippi, and Alabama do not have a long history of stock enhancement efforts nor established programs currently producing marine species for restoration purposes on a consistent basis. Although Louisiana has conducted research which has been applied to a certain degree regarding restocking marine invertebrates such as oysters, no enhancement efforts with respect to marine finfish have been undertaken. In Alabama, the state's Department of Conservation and Natural Resources Marine Resources Division (AMRD) has researched production of red snapper and cultured red drum at its Claude Peteet Mariculture Center but not at a sustained level of production. In Mississippi, ongoing efforts to develop programs for restoring red snapper and spotted seatrout by the University of Southern Mississipi's Gulf Coast research Laboratory (GCRL) and the Mississippi Department of Marine Resources (MDMR) are currently nearing fruition, although no consistent large scale releases have been accomplished to date.
Several factors have limited the scope and impact of marine stock enhancement programs targeting the coastal waters of the northern Gulf states. First, in addition to a general lack of interest in restoration efforts, no collaborative efforts to date have been established among the three states. Second, as mentioned above most existing programs are research based. While this is a necessary venture to help ensure success of future mitigation programs involving a variety of species, these efforts are not geared towards positive environmental impacts in the short term. Third, most agencies and universities involved or wishing to be involved in stock enhancement efforts do not possess the facilities for rearing mass quantities of sufficiently sized aquatic animals for stocking. And lastly, there is a clear lack of involvement of the private sector with respect to mitigation programs. While public entities such as universities and state agencies can provide a wealth of available expertise and the regimented structure needed to perform studies to establish baseline protocols necessary for successful and meaningful stock enhancement, commercial hatcheries are better suited for the production of appreciable numbers of animals of the size suitable for stocking on a consistent basis. In fact, it can be argued that enhancement programs should involve both public and private entities, with the latter taking a prominent role to ensure that activities are performed to scale for maximum impact while being financially sound and responsible.
Aqua Green, LLC: A Commercial Entity Committed to Gulf Coastal Restoration Efforts
Production of marine aquatic species at inland locations, miles away from the coast, is an idea that has been discussed for many years but only until recently has there been any commercial activity in the US. One of these pioneering operations is Aqua Green LLC, located approximately 40 miles north of the Mississippi Gulf Coast in Stone County. Aqua Green began operations in 2008 with the installation of a 53,000 ft2 tilapia production facility that currently produces 10,000 lbs of market size fish every week that are transported and distributed mainly to the east coast live fish market.
Expanding on its freshwater culture operations, the company has recently completed a 20,000 ft2 state-of-the-art marine research, hatchery, and nursery center and is in the process of designing and constructing a pilot-scale production facility coupled with a water treatment plant that will be utilized to reuse as much water and salt as possible, resulting in minimal discharge. The marine research, hatchery, and nursery center serves several purposes. One room of the building houses four large quarantine tanks, in which aquatic animals from other sources including the wild can be screened and treated, if necessary, for diseases before introduction to other tanks on site. This attribute of the facility allows housing of multiple species of various life stages, an important factor in establishing and supporting recovery and restoration programs. The Center also contains tanks specifically designed for the reproduction and spawning of aquatic broodstock, an egg incubation room, live feeds rooms for the production of microorganisms to feed larvae, two research rooms containing multiple tanks for replicated scientific studies, two larviculture rooms, and three recirculating systems for the production of juvenile animals for stocking purposes. The Center is unique in several aspects: 1) it is the only inland facility in the southern US in which large numbers of juvenile marine aquatic animals can be produced in mass quantities, 2) aside from large aquariums, this is the only site in the nation where significant numbers of brood animals necessary for future reproduction can be held, and 3) the facility is equipped to conduct research studies, the results of which will be of the quality for publication in recognized peer-reviewed scientific journals.
While initially the role of the Center will be the production (from egg to juvenile) of Florida pompano and red drum for stocking Aqua Green production facilities to produce marketable fish, techniques for their production can easily be applied to the production of other marine aquatic species. In fact, Aqua Green is currently working with GCRL and MDMR on Gulf marine finfish restoration programs that are targeting speckled trout, red snapper, and cobia. These efforts will be enhanced with the inclusion in 2011 of the 20,000 ft2 Center for Marine Aquatic Animal Stock Enhancement and Restoration via Federal funding in cooperation with MDMR. The facility will be capable of replenishing millions of aquatic animals of various species to Gulf waters.
In addition to producing large numbers of juvenile aquatic animals, Aqua Green's pilot-scale marine finfish production facility, consisting of three culture systems arranged in two tank "pods", will have the ability of producing 1,000 lbs of pompano weekly. While this facility will initially be used to evaluate production of adult pompano, other marine species of importance to the Gulf environment could also be produced in mass quantities. As the plan for expansion is the inclusion of an additional 11 pilot-scale systems by 2013, Aqua Green's ability to produce marine fish as well as other aquatic species will be unsurpassed by any facility in the US. In addition to pompano and red drum, Aqua Green will be capable of holding as well as producing large numbers of a variety of Gulf finfish species including spotted seatrout, red snapper, cobia, tripletail, flounder, and various baitfish. In addition, plants associated with saltwater marshes will also be produced using effluent from Aqua Green facilities for restoration projects.
Aqua Green's Vision
It is clear that restoration of the northern Gulf will require a team of both public and private entities to be successful. BP can help make this a reality by sharing and supporting Aqua Green's vision of forming the Restoration Initiative of the Northern Gulf (RING), a comprehensive marine resource damage investment program, by establishing a qualified team, providing expertise and facilities, and ensuring that all activities are conducted using sound business practices and decision making. Because of its location in the center of the Gulf coast region, near the major point of impact of the oil spill, Aqua Green can easily coordinate activities of other universities and government agencies in Louisiana, Mississippi, and Alabama, including rearing, transporting, and stocking of species targeted for restoration. The RING program will be result and impact driven to ensure that the Gulf region regains and maintains its preeminence as an economic, fishery, and tourist resource.